Acoustic/Elastic/Mechanical Composite Metamaterials

Acoustic/elastic composite metamaterials exhibit unique properties not commonly found in natural materials. By specially designing their microstructures, these metamaterials possess negative effective mass density over certain frequency ranges. This implies that stress waves cannot be transmitted through the material, thus enabling control and attenuation of stress wave propagation. This results in interesting applications including vibration control, impact protection, blast wave mitigation and energy harvesting. Recently, we further explore and utilize the local resonance concept in mechanical metamaterials to achieve unique one-way wave transmission and control thermal conductivity.
Read the full articles:
Impact Damage of Advanced Composites

Advanced composite materials are hugely employed in modern aircraft structures and in many aerospace applications like engine casing, fan-blades, etc. This is attributed to their high strength-weight ratio and high stiffness-weight ratio, making composites extremely light, yet exceptionally strong. However, the use of composites makes them susceptible to impact damage, which could result in complex multi-scale failure mechanisms like delamination, matrix cracking, fiber debonding, fiber fracture, etc. Adding to that, the operating conditions of these composite parts are often at high temperature environment, thus causing the damage behavior of the material to be particularly complicated. Both state-of-the art non-destructive inspection (NDI) experimental techniques and muti-scale modelling methodology are utilized in this work, with the aim to explore strategies to improve the impact damage tolerance of composites. Recently, we explore the impact behavior of advanced composites in extreme low temperature arctic environment.
Read the full articles:
Fracture & Damage of Composites with Interlaminar Reinforcement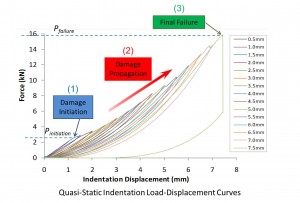 Interlaminar reinforcement technique, like stitching, can effectively increase the generally poor interlaminar strength of laminated composites. Stitching increases the delamination resistance by reducing the crack opening displacement in mode I loading and resisting crack sliding displacement in mode II. Bridging forces offered by stitches significantly increase the ultimate strength of the material through high energy absorption in fibre fracture and frictional pull-out. Novel experimental techniques are used to investigate the fracture behavior of single stitch fiber, which is subsequently employed to develop a stitch progressive damage model. Damage phenomenon, incorporating the effect of stitching, is elucidated.
Read the full articles:
M. Elamin*, B. Li* and K.T. Tan (2018). Impact Performance of Stitched and Unstitched Composites in Extreme Low Temperature Arctic Conditions, Journal of Dynamic Behavior of Materials, Special Issue on Dynamic Failure of Composite Materials, 4: 317-327. DOI
K.T. Tan, N. Watanabe and Y. Iwahori (2015). Finite Element Model for Compression After Impact Behaviour of Stitched Composites, Composites Part B: Engineering, 79: 53-60.

DOI

K.T. Tan

, A. Yoshimura, N. Watanabe, Y. Iwahori and T. Ishikawa (2013). Effect of Stitch Density and Stitch Thread Thickness on Damage Progression and Failure Characteristics of Stitched Composites under Out-Of-Plane Loading, Composites Science and Technology, 74: 194-204.

DOI

K.T. Tan

, N. Watanabe and Y. Iwahori (2011). Stitch Fibre Comparison for Improvement of Interlaminar Fracture Toughness in Stitched Composites, Journal of Reinforced Plastics and Composites, 30(2): 99-109.

DOI

K.T. Tan

, N. Watanabe, Y. Iwahori, H. Hoshi and M. Sano (2010). Interlaminar Fracture Toughness of Vectran-Stitched Composites – Experimental and Computational Analysis, Journal of Composite Materials, 44(26): 3203-3229. DOI

K.T. Tan

, N. Watanabe and Y. Iwahori (2010). Experimental Investigation of Bridging Law for Single Stitch Fibre using Interlaminar Tension Test, Composite Structures, 92: 1399-1409.

DOI
Biomimetic Structures for Impact Protection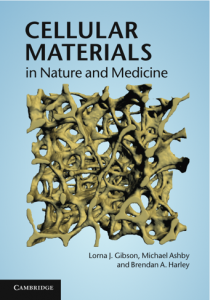 The concept of biomimicry is solving problems and creating new opportunities through understanding and applying biological models. Very often, innovation inspired by nature and careful examination of the natural world are potential ways to seek solution to real-world problems. In this work, we seek inspiration from nature to design and recreate biomimetic, damage tolerant structures that are highly effective in absorbing impact shock load. Both computational and experimental techniques are utilized to fundamentally understand the mechanics of hierarchical structural members with cellular materials to attain high strength-weight ratio and to achieve extraordinary mechanical performance and exceptional impact response.
Read the full articles:
Adhesive Joints and Patterned Surfaces

Adhesive joints are important to adhere different kinds of materials to provide an overall strong structural performance. One approach is to design patterned surfaces to improve mechanical strength and control failure mechanisms. In this work, we employ both experimental and numerical approaches to design and characterize composite adhesive joints to understand the mechanics of adhesive, adherend and cohesive failure. We also utilize the concept of biomimicry to design patterned surfaces for improved dynamic traction and strong adhesive bonds.
Read the full articles:
* denote students in K.T. Tan's Research Group
More updates on recent projects coming……..